Implementation of BI Solution for family entertainment centers management company
Project Duration: 2019 to present (In development currently)
Client:
The end client is a national US company focused on designing, developing and operating family oriented amusement facilities. The client has 16 wholly owned locations and 35 partner locations strategically located in over 20 states.

Annual Revenue: US$150 Million
Number of Employees: +500
Challenge:
The end client has scattered data sources, making it extremely difficult to appropriately visualize in a timely manner the issues and important metrics to identify problems and propose solutions. 

The scope of the project includes the integration of different databases in the same ETL, from APIs to Amazon Simple Storage using Power BI to generate the reports
Scope of Project:
Built Data Warehouse Infrastructure initiative for client using Azure and SQL Server.

Led the communication and ETL methods with client's existing vendors and assessed future vendors.
Created ETL Infrastructure to bring data from data hubs to Power BI platform to help client have a full vision of their current situation based on metrics, study and company the market conditions of its industry, and optimize internal processes.
Created a strategic HR and IT personnel plan structured to move project from just agency-based to a hybrid agency-managed IT Department, so maintenance and future developments could be managed from in-house staff.

Created a 3-year plan to expand BI Dashboard and Reports from descriptive analytics to predictive and prescriptive analytics. This will include the implementation of Floor Planning Optimization, Trend Analysis, Image/Video Analytics, NetSuites dashboard implementation, RDBMS, Payroll, Turnover by Employee, Forecast Techniques, Machine Learning, and AI.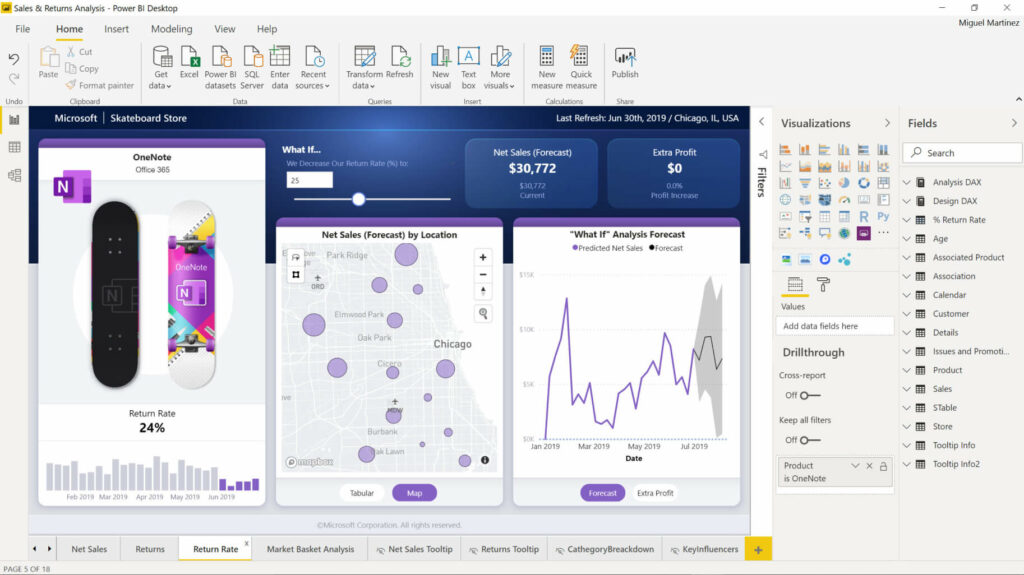 Results
Real cases and Real experience
Learn about our Core Services solutions and let our team work for you. 
Every great company has millions of data coming from dozens of different channels. It is impossible to beat the market game without this data being properly organized and generating insights into every detail of the business 24/7.
Powerful And Organized: Our team specializes in understanding each case thoroughly and generating cost-effective solutions with realistic development time. Make sure your data puts you ahead of your market without waiting years for it.
Brings More Transparency And Speed: More than just trying to organize your data, it is vital that the data uses the right processing technology, language, storage technologies and practices. You don't want to invest your capital to receive dashboards that inaccurately display reports.
 
Special For Multiple Use Capabilities: Keep your whole team in the loop. Different sectors and levels of your team can have specific accesses and roles.